Is remote learning in Higher Education here to stay?
Online learning could be a defining feature of higher education in five years, according to a new Ipsos survey conducted for the World Economic Forum. As a second wave of COVID-19 saw cases resurging across the globe in October," said the WEF's website, "more than 27,500 adults in 29 countries were asked how they saw higher education being conducted in their country, five years from now."

The COVID-19 pandemic has impacted education for over 1.3 billion students this year. With many schools closed and many classes moving online, the world is wondering if these seismic shifts in education are here to stay.

Nearly three quarters (72%) of those surveyed believed higher education would be either a mix of in-person and remote learning, or mostly remote.
What will higher education look like in 5 years?
Most respondents (49%), believe higher education will be a blend of online and face-to-face classes. About a quarter (23%) think the majority of classes will be remote. Almost a third (29%) believe classes will still use the traditional model of face-to-face learning.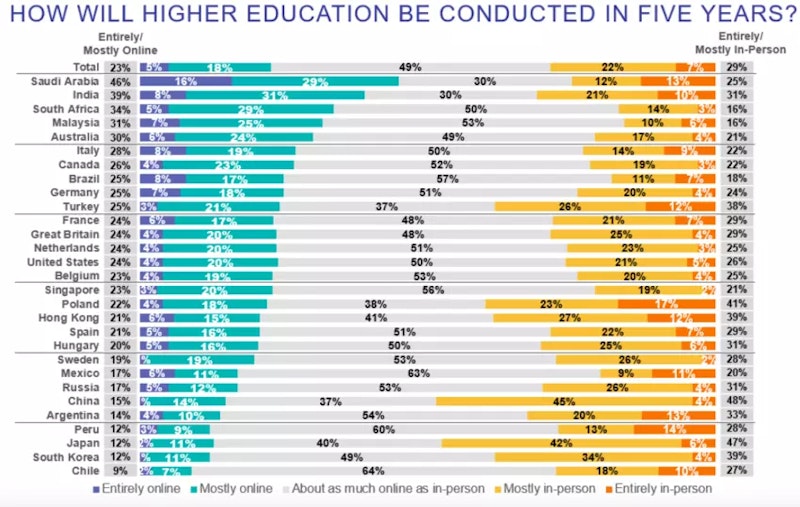 Generally, adults in countries with higher case counts were more likely to believe online learning to be the future of higher education. Only 31% of adults in India and 18% in Brazil—which have the second and third highest case counts, respectively—thought education would return to being largely or entirely in person. Meanwhile, 48% of adults in China and 47% in Japan, two countries that were able to contain the virus, believe educational institutions will return to in- person learning.
In the United States, the country with the highest number of cases, 70% of respondents believed classes would either follow a blended approach or be mostly online.
Is face-to-face education worth the cost?
The Ipsos survey also asked respondents if they thought in-person higher education was worth the high price tag. Opinions were mixed. About 53% of all adults surveyed said that the cost was fair, while more than a third (36%) said it was not.
Most adults in China (81%), Germany (61%), India (68%), Malaysia (63%), the Netherlands (64%), Saudi Arabia (69%), and Sweden (78%) were mostly satisfied with the price of in-person higher education.
On the other hand, most respondents in Brazil (51%), Chile (59%) Italy (57%), Russia (51%), and South Korea (51%) believed face-to-face learning was not worth the cost.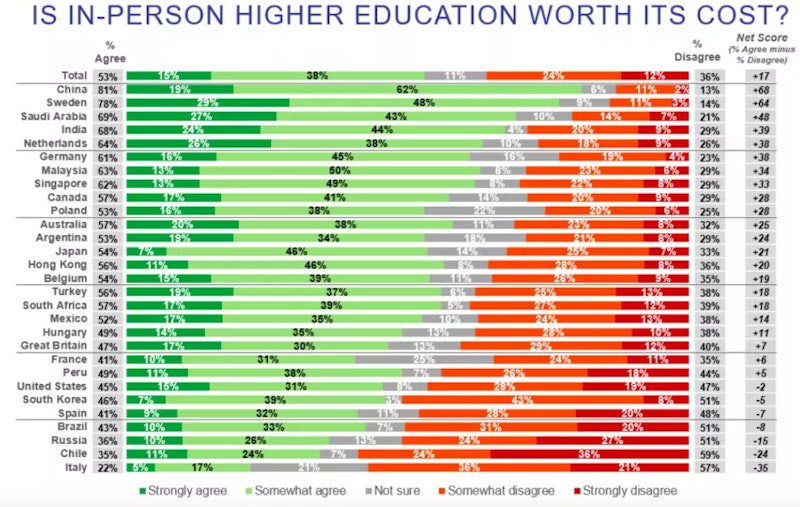 The United States was almost evenly split on the issue, with 45% agreeing that the cost was fair and 47% disagreeing.
The widespread disruption caused by the COVID-19 pandemic has led many worldwide to question the future viability of in-person education. While the pandemic's long term effects on higher education remain to be seen, it is clear that opinions on the value of remote learning are rapidly changing.
About the author
About EdTick
EdTick is a platform that helps educational institutions connect with academic software. Join our Beta program and help us shape the future of educational technologies!