Soft Skills Development Initiatives: How To Assess And Improve Them In The Workplace
Your employees' work ethic, attitude, communication skills, and emotional intelligence are crucial for their career success and the well-being of your business. However, soft skills are usually intangible and it might be hard for your organisation to measure their Return on Investment (ROI).

In this EdTick Guide, you will learn what soft skills are, why soft skills are so important, and how your institution can track the development of employees' soft skills as well as their impact on your business.
What Are Soft Skills?
Soft skills are personality traits and behaviours that enable an employee to fit in better at a workplace or in their specific role. They might include attitude, flexibility, motivation, or manners. Anything that empowers them to interact effectively and harmoniously with others and impact organisational culture, mindsets, or leadership can be considered a soft skill.
Soft skills fall into the following six main categories:
Advanced communication and negotiation skills
Interpersonal skills and empathy
Leadership and management skills
Entrepreneurship and initiative-taking
Adaptability and persistent learning skills
Teaching and training skills
Soft competencies are incredibly important because they help all employees with problem-solving, delegating tasks, motivating, and team building. However, unlike hard skills or technical skills, soft skills are not directly relevant to the job description, and are less quantifiable and more difficult to attain..
For example, while a hard skill for a K-12 English teacher can be language proficiency, a soft skill can be excellent communication skills.
Why Are Soft Skills Important In The Workplace?
Research by the Stanford Research Institute International and the Carnegie Mellon Foundation shows that 75% of long-term job success depends on soft skills and only 25% depends on hard or technical skills. However, soft skills are often undervalued and there is far less training provided for them than hard skills.
In the business world, soft skills have an important role in resume writing, interviewing, job performance, establishing professional relationships, and career advancement. As soft skills are usually transferable across different careers and industries, they are crucial for achieving success throughout one's career.
Furthermore, it is necessary to put soft skills at the forefront of company culture because of three main reasons:
Soft skills are more nuanced than technical skills and can help workers adapt to a variety of personality types and settings.
They help ensure that employees will grow inside the company and become long-term assets.
They help ensure the success of professional relationships between colleagues, clients, and business partners.
How To Measure Soft Skills Development
Tracking and measuring the impact of your soft skill development strategies and presenting the results to budget holders can have a huge positive impact on organisational culture and economic gains.
There are many ways in which your company can evaluate the impact of soft skills learning initiatives in your business—these are a few of them:
1. Measuring Usage and Engagement Rates
We suggest you track the usage and engagement rates of your company's soft skills training program. If a platform or specific content is being regularly engaged with, it is a good sign that employees are benefiting from it. On the contrary, if engagement rates are low, it might indicate that the tool is too difficult to use or that the content is not engaging.
When L&D professionals can learn from engagement rates and adjust the organisation's program accordingly, training has a deeper impact, which will be reflected in the company's performance.
2. Carrying Out Interviews Or Surveys With Your Employees
You can also measure your company's soft skills development efforts through qualitative research. If you belong to a medium or large company, having L&D managers carry out 1:1 interviews or surveys with the platform users is another great way of keeping track of the success of your learning initiatives.
3. Analysing Staff Turnover
Staff turnover is one of the highest cost factors in any business, but it is also an easily quantifiable metric for success. Investing in your employees' soft skills development and providing them with career development opportunities will undoubtedly have a positive impact on your company's employee retention rates.
Therefore, at EdTick we consider comparing employee retention rates before and after implementing a soft skills training program to be an impactful way of measuring the program's ROI.
4. Implementing Customer Satisfaction Surveys
Soft competencies development can increase customer satisfaction by making employees better at interacting with customers. Measuring customer satisfaction is a great way of measuring whether the interpersonal skills of your employees are actually improving.
5. Defining a Process Optimisation Strategy
By measuring how efficiently time and resources are used throughout the soft skills development process, you can create tangible means to measure if your Key Performance Indicators are reaching the goals and ultimately if your organization ROI is satisfactory or not.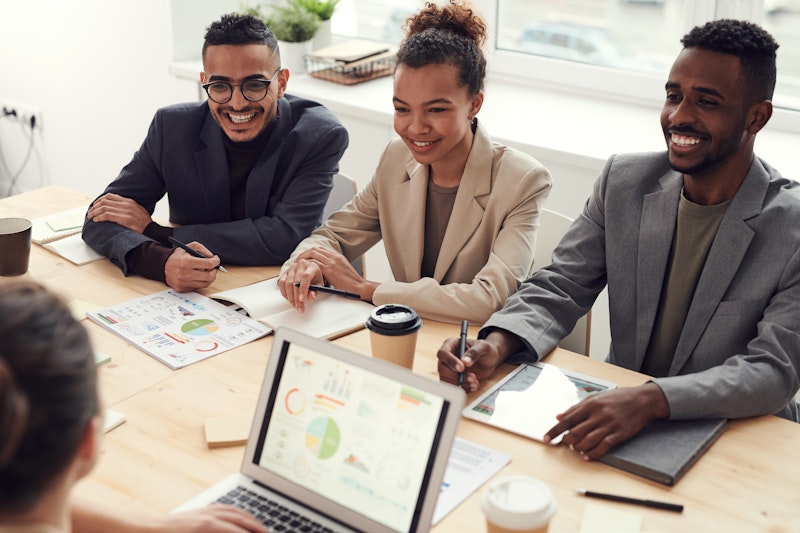 How To Improve a Soft Skills Development Program At Your Company
1. Promote A Learning Mindset
Before implementing any type of initiative, you should ensure that your employees understand the importance of soft skills in their work performance and that they are motivated to learn. You may consider having employees attend seminars or training programs offered at local events or through online training initiatives.
In order to open your staff's minds to soft skills training, you can start by providing them with examples of soft skills at work in the office and asking them to consider how these skills impact their employee experience. This might help them realize how improving their soft skills can make their work more enjoyable.
2. Encourage Self-assessment And Manager Feedback
At EdTick we recommend you encourage your employees to reflect on the soft skills they excel at while frankly identifying their weaker areas. To that end, you can arrange periodic coaching sessions between your employees and their leader or manager so that they can guide your employees down the right path.
3. Leverage Powerful LMS Software
The most effective way of providing accessible and engaging soft skills training courses for your employees to utilize a powerful Learning Management Software (LMS). The biggest advantage of an LMS is that it will allow your employees to learn wherever they are and whenever they want on a fun and engaging software platform.
An easy and efficient way to find the right soft skill training software tool for you is by using EdTick's free search engine tool. You can use EdTick to compare the functionalities, features and pricing of the top Learning Management Systems (LMS) on the market.

Once you find the software tools that seem to fit your needs, you can request further information and advice from up to 5 software experts, and even try demos through EdTick anytime and at no cost!

We hope this EdTick Guide will help you to understand the needs of your organisation when it comes to implementing or improving the soft skill training methods that work best for your employees and organisation.