Adaptive Learning: How To Produce Personalized Training Programs
Each student has different learning needs and goals, but many educational institutions and corporate organisations deliver the exact same training to every learner. This means that the learning process for each individual is not adjusted to their individual requirements, which makes learning and developing new skills more difficult.

Many educational and corporate institutions are thus now moving towards a more personalized and adaptive online learning experience tailored to the understanding, skills, and interests of the individual learner.

In this EdTick guide, you can learn how adaptive learning can help your institution greatly improve the impact of its virtual training programs and increase learner engagement and retention.
What Is Adaptive Learning?
Adaptive learning is an online educational methodology that modifies the presentation of material based on students' preferences and performance in order to best fit their needs. Adaptive Learning systems use data and learning analytics to obtain feedback and improve blended learning environments for greater progress tracking and personalization.
Learning Management Systems (LMS) provide comprehensive administration, documentation, tracking and reporting for adaptive learning.
What Are The Benefits Of Adaptive eLearning Training Programs?
Adaptive online learning can be highly beneficial. These are some of its advantages:
It helps in providing 1:1 (one-to-one) instruction and personalized feedback.
It promotes time-efficiency by allowing learners to spend less time with content they've already mastered, so they can instead focus on improving in areas where they're weaker.
It is based on a confidence-based assessment methodology which tests the current understanding of learners, which helps indicate what the learners are consciously or unconsciously aware of.
The data collection which is integral to adaptive learning platforms allows students to create individualized learning goals and paths.
Allowing learners control over their learning empowers them and translates into a better experience and higher satisfaction.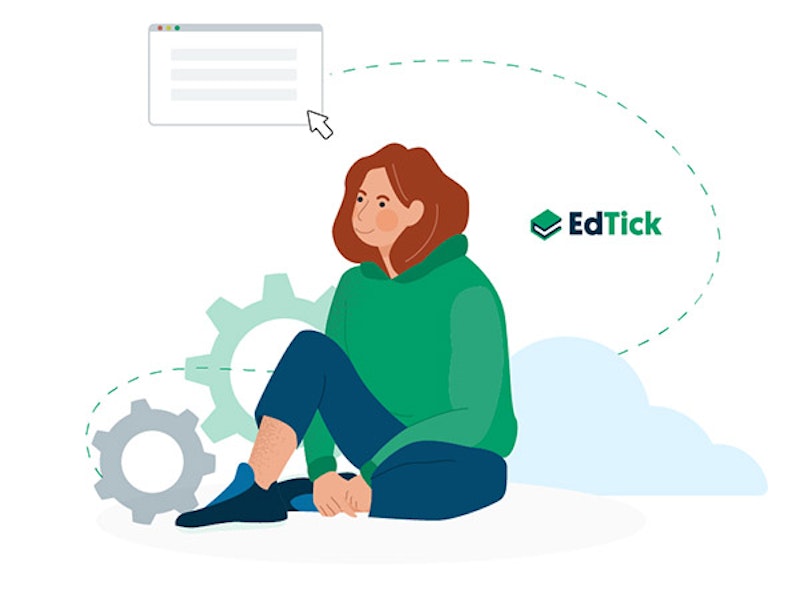 5 Steps To Offer Personalized And Adaptive eLearning Training
1. Get To Know Your Audience
In order to personalise the virtual learning experience of your institution's students or employees, you first need to understand your audience. At EdTick we believe that defining an audience template will help you obtain a more clear vision for action, identify your audience's needs, increase your impact, and save time.
These are some questions that will help build your audience profile:
What are the physical and psychological characteristics of the people that are receiving the training program?
What kind of topics related to the subject are they interested in?
What are the most common activities they perform during online learning?
What are their main goals and challenges related to eLearning?
If you follow these key points, you will be on the right path to delivering fast and effective training.
2. Have A People-centred Design Approach
The recipe for successful training lies in ensuring that your institution's educational programs are supported by these main pillars:
Delivering effective eLearning experiences where learners receive a clear ROI (Return on Investment) will ensure student or employee retention, increased productivity, and improved performance.
Meeting tangible goals that help your learners achieve real-life goals. Constantly assess the effectiveness of your eLearning to ensure that it is helping learners achieve their goals.. Personalize learning experiences by understanding the individual perspectives of your learners.
Make the eLearning available on a variety of devices, via screen readers or through keyboard interaction to suit your audience's needs.
We also suggest you involve your users in the design process in order to get feedback and test the outcomes of your ideas.
At EdTick we recommend you look for smart adaptive technologies such as authoring tools, which is software enabling users to create and edit digital learning content. Today there is a vast variety of tools which support item writing, test construction, online test delivery, automated scoring, data processing, scaling and the provision of feedback both for students and teachers.
3. Guide Your Users With Diagnostics
Another great way to make your eLearning adaptive is to provide users with diagnostic assessments. Diagnostic assessments provide schools, universities and businesses with regular measurements and provide teachers with relevant resources to make formative assessments. Diagnostic feedback can help solve critical problems in your educational approach.
Related article

Formative Vs. Summative Assessment: What Are They and Which Does It Suit Your Institution?
4. Report Back To Users
Nowadays, access to big data is a crucial advantage in any online education program. However, just looking at raw figures and metrics is of little use. It is thus important to translate eLearning analytics into your educational institutions' or corporate business' KPIs language. To do so, you can use adaptive technology to analyze action plans and feedback.
A great way to obtain relevant online learning data can be taking advantage of Learning Management System (LMS) reporting tools. These reports can help your students or employees to reflect on their educational journey, choices so far, learning strengths or weaknesses, and much more.
5. Keep It Simple!
Last but not least, we strongly suggest you not to overcomplicate things for yourself, at least at the beginning of the personalization process. You can start off with very simple adaptive techniques, such as role selectors or using clips to play back names. Once you master the basic customisation methods, you can continue adding more and more customisation functionalities.
Conclusion
To sum up, today's technology is able to support smart, personalized, adaptive learning experiences. If you're a school, university or a business, personalised and adaptive eLearning is highly valuable because it allows learners to get more from your education programs, and increases their engagement and retention.
Explore EdTick's free search engine and compare and assess personalized and adaptive eLearning software tools that will boost your eLearning program's engagement and retention! What is holding you back?